Latest News - Psychotherapy & Counselling
Many of us at some point in our lives will find ourselves in a situation where somebody probably should be asking us "Do you want to talk about it?". We will be asked this because they have recognised that our behaviour has changed. To them, we may appear overwhelmed, angry or even withdrawn, or we are not performing the way we used to.
If we are lucky, there will be a family member, partner, friend or colleague that asks us this question. At other times we might find ourselves asking ourselves this question. Our response might not always be a positive one and we could find ourselves avoiding the conversation, walking away, or even getting angry. That's when it might be useful to consider the benefits of talking to a qualified, experienced therapist.
Why do some of us find it so hard to talk to a therapist?
Historically many of us have become conditioned not to share how we feel. We can become embarrassed to talk about our feelings and can see ourselves as weak for doing so. We might even think that what we are feeling isn't real, or sufficiently important for anyone to take us seriously and that we just need to pull ourselves together. Too often we have a perception that no one wants to listen to us, no one will hear us, and it will just be an uncomfortable experience for all concerned if we talk about how we feel. Thankfully, that is only the stigma and perception talking.
Some fear that there will be an impact on their lives if they show their vulnerability. In some cultures or in the workplace, it has been seen as wrong to talk about feelings or mental health. This has been unhelpful to those needing help. Thankfully, increasingly those that are finding the strength to talk are finding that they are being heard and respected for doing so. Many have found that their initial fears were unfounded and that talking was liberating.
If we don't talk about how we feel it can lead to us suppressing our pain or loss, locking it up inside us and hoping it goes away. If we are experiencing serious pain, or have suffered trauma or abuse, then suppressing our thoughts and emotions about it can lead to further difficulties in the future. Left unchecked, both our physical and mental health can deteriorate as a result of our repressed emotions. Our mental health is so important to our overall wellness that unchecked mental health challenges can manifest themselves in physical symptoms.
Seeking help is brave, strong and courageous, not a sign of weakness.
If we had a broken leg or physical illness we would likely talk about it, seek treatment, and tell our employer about it. We'd take leave from work, and take action to improve our health. It comes naturally.
Successful people generally recognise that they can't do everything in life themselves, and benefit from help. Did you know that even the CEO's of top global companies frequently have coaches, mentors, and use counselling? Even Psychologists benefit from counselling and talking about their feelings with problems with others! These "successful" people recognise that at times they need a different perspective, guidance and direction. They know, that a non-judgemental, third-party perspective and insight into their home and work-lives can be beneficial. Many will say that its a key to their success and they couldn't have done it on their own.
It shouldn't be embarrassing to admit that at times we would benefit from a little help, or even just need to be able to talk, and know that someone will genuinely hear us. We all need help from time to time in our lives.
How can a Counsellor or therapist help me?
When you talk to a qualified Counsellor you will be talking to an individual who is trained to listen and really hear what you are saying. They'll listen to you in non-judgemental way and allow you time to express yourself and how you are feeling. Importantly they'll help you shape and put into context what you are feeling. Your Counsellor will explain to you that its far from unusual to feel the way you do and that you are certainly not alone in having to deal with whatever situation you find yourself in.
Importantly your qualified Counsellor will offer you the opportunity to talk in a "safe space". You will be assured of confidentiality, and what you talk about will stay in the room. You won't be judged and they'll respect that you had the strength to seek help.
Your experienced Counsellor will know a number of techniques that can be applied to help you in your situation. Interestingly, many of these will help you learn how to manage your thoughts and feelings in different ways to how you have done it traditionally.
Amongst a number of techniques they can, for instance, help you recognise and explore negative thoughts to show you how you can help yourself respond differently in future. They'll help you understand coping techniques for your situation, and how to perhaps respond differently to others around you and situations that you find yourself in. You may well find your experience with your counsellor life-changing and brings about far-reaching change and benefits beyond the initial reason that you went to them in the first
Our highly experienced Counsellor is waiting to hear from you
If you or a family member would benefit from counselling our experienced and highly qualified counsellor Maria Luedeke is available to help you.
Maria believes in using a collaborative approach with Clients to aid them in developing self-efficacy, resiliency and self-empowerment through their innate strengths and abilities. Utilising her experience, Maria empowers individuals to achieve what they aspire to and provide tools to respond, rather than react to life challenges. This enables growth, happiness and success in all facets of personal and professional life.
Aspire Counselling can be contacted, or you can make a booking for an online or face to face appointment on http://aspirecounselling.net or alternatively by emailing Maria Luedeke at marialuedeke@aspirecounselling.net
In 1948 the World Health Organisation(WHO) was founded. Of its principles, the first is:
Health is a state of complete physical, mental and social well-being and not merely the absence of disease or infirmity.
Yet, even today, many people struggle to achieve balanced health. For those lucky enough to have physical and even social health, mental health is often lacking. Despite mental health issues affecting 1 in 4 people (25% of the population of the world), it remains a taboo and stigmatized subject in society. 350 million people in the world suffer from depression.  These people are not odd "crazy" strangers, they are often amongst your closest family members, colleagues, and friends. So common are mental health challenges, that there's absolutely no reason why it is not viewed as a normal, regular, yet managable condition.
Whilst some of these affected will need the help of specialists in order to function and maintain their mental health, we can all take basic steps to look after ourselves. Just as we invest in a healthy diet, gym memberships etc to maintain our physique and physical wellness, we can do similar things for our mental health. Both share exercise, diet and sleep in common.
When our physical health suffers we often feel the effect quite quickly in the form of tiredness, or even pain. With mental health, the signs can often be rather more subtle. For that reason, it is important that we frequently "check in with ourselves". Daily self-monitoring and reaction to the changes we observe can be beneficial and helps with the identification of changes to our mental health. When changes are detected, or even before, we can learn numerous coping techniques to assist with the most common challenges such as depression and anxiety.
When we notice changes in our mental health that can't simply be addressed by refocusing our thoughts or implementing healthy coping techniques then there is an abundance of help available in the form of psychotherapists, counsellors, peer support groups or even talking to family, colleagues, and friends.
Aspire Counselling is here to help when you need to talk or learn how to understand how you feel.  Psychotherapist and Counsellor Maria Luedeke specializes in empowering individuals, families, couples and teams in the corporate workplaces to achieve their goals and live fulfilled lives.
You can find out more or book an appointment with Maria at Aspire Counselling by visiting https://aspirecounselling.net or by going directly to our online appointment booking page.
Recently, my husband severely injured his right hand, requiring emergency surgery and a stay in the hospital. This was stressful on many different levels: emotionally, mentally, physically, and financially. I had to find friends to watch our kids, arrange follow-ups with doctors, and learn how to care for my husband who would have difficulty caring for himself for a while. It was overwhelming, to say the least.
Coping with the trauma of the event itself was something completely different. I'd observed my husband's mutilated hand, and witnessed his agony, which was very troubling. Once I realized how bad the injury was, I had to go completely into crisis mode. That expends a lot of my extra energy and I ended up sobbing uncontrollably several times that difficult day.
With my recent Type I Bipolar diagnosis, I know that I have to stay away from stress as much as possible. But what happens when the stress comes to me? What happens when the unthinkable occurs? How does one with Bipolar Disorder cope with those events?
I'm certainly no expert in this area, but I found a few things that really helped me stabilize myself when I felt like the ominous string of sudden responsibilities would envelop me. I hope you find them helpful, as well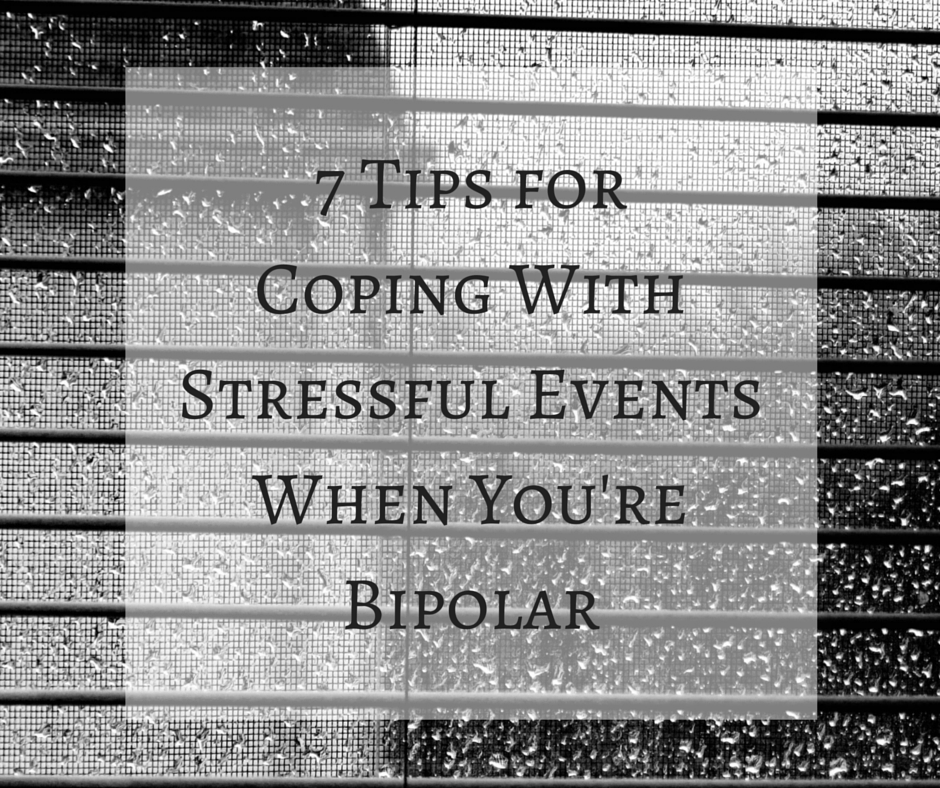 1. Setting healthy boundaries. I started with backing off of all unimportant projects that were unrelated to the event, making sure I wrote them down to get to at a later date.
2. Rearranging priorities. This is when I really had to divide the necessary from the unnecessary. I started from the source of the trauma and worked my way out, noting the most important people that needed my care first.
3. Taking personal time. It's important for me to continue to listen to what my body needs in order to stay balanced. I had to do my best to keep from continuously ignoring my own needs for those of someone else.
4. Staying organized. If you need to manage an unprecedented schedule, you'll want to be as organized as possible. It's harder to do when you're in the middle of a crisis, so I like to stick to easy ways of keeping a schedule, like using a planner or my phone's calendar app.
5. Getting enough rest. I can't emphasize this one enough. Sleep can be paramount to coping well within difficult situations, and each day is going to bring something different. I planned for chaos, and stuck to my sleep schedule as best I could, and it made such a difference.
6. Asking for help. Reaching out only improved my situation. I had to call on my close friends and family members to help me cope and manage added responsibilities. It was a huge relief.
7. Talking to a therapist. My therapist helped me stay on track and reminded me that I needed to cut myself slack during that challenging situation. It also was really nice to have someone outside the situation to talk to about my struggles with the event.
It can be difficult to balance, and extra stress can cause all kinds of problems with your mind and body, poor judgment, to depression and irritability.
But don't worry! You will get through this. With mindful planning, it's possible to survive traumatic events without losing your entire ability to cope.
This article appeared on www.bhope.com
ABOUT THE AUTHOR: MELANIE MCKINNON
Melanie McKinnon is a freelance writer based in Mesa, Arizona. She's a blogger for The Huffington Post and has written for several notable websites, such as Scary Mommy, The Good Men Project, and The Mighty. Diagnosed with Type I Bipolar Disorder in July of 2015, she spends her time balancing her moods and responsibilities at work, as a writer and barre fitness instructor, and at home, with her spouse and three children. Her favorite things include meditation, Diet Pepsi, Arizona, and football. Through her writing, she hopes to encourage and inspire anyone fighting a daily battle. Read more from Melanie on her blog: MelanieMeditates.com.