Latest News - Psychotherapy & Counselling
"You look at me, and you'd never know
– Because, if you took a look at me from the inside, I would look completely opposite."
The above excerpt by Liz Spenner writing  in The Mighty, highlights the difference between what she feels and what others see.
If this is you and you need help, do contact us at Aspire Counselling, we are centrally located in Singapore and understand what you might be going through. You can contact us or book an appointment ( face to face or online ) via our website www.aspirecounselling.net, or call us on 65702781
SOBERNATION – August 19, 2016 by Chris Boutte
From the moment I became sober back in 2012, I've been on a constant journey to improve who I am as a person. This is something I learned from going to Alcoholics Anonymous and Narcotics Anonymous. Meetings, a sponsor, and the steps taught me that drugs and alcohol were but a symptom of my disease. I had a major problem with living life.
My journey throughout the last four years has been incredible, and I am a much different person. Like a good addict, I always think I need more. Today I am grateful that I can focus that on self-discovery and self-improvement rather than self-destruction. This path led me to research something called mindfulness.
My name is Chris Boutte. I am currently the Lead Alumni Coordinator for American Untitled design (11)Addiction Centers, and I'm based out of Desert Hope in Las Vegas, Nevada. I am not a doctor or therapist. Heck, I only went to college for a semester. I'm a bit of a recovery
However, I am a bit of a recovery nerd, so I spend a lot of time researching the disease of addiction and learning how to strengthen my own recovery. For a few months, I kept seeing articles about something called mindfulness and how it could be used to improve work, relationships and life in general. Out of curiosity, I wondered if it could help people recover from addiction. I happened to find a book called The Mindful Path to Addiction Recovery, and it intrigued me.
Since reading the book and learning how it can benefit people struggling with addiction, I decided to enroll in a six-week mindfulness course. I loved it so much that I then enrolled in the next course, which is about teaching mindfulness to others. Since practicing mindfulness, I feel my recovery has improved greatly, and I also realized that AA and NA had already taught me some mindfulness.
What is Mindfulness?
One of the best descriptions of mindfulness comes from Jon Kabat Zinn who founded the Stress Reduction Clinic as well as the Center for Mindfulness. He says, "Mindfulness is paying attention in a particular way: on purpose, in the present moment, and non-judgmentally." Mindfulness practice is all about increasing one's ability to have very short instances of moment-to-moment awareness for longer periods of time. Some of you may be wondering what this has to do with anything, and others may already be thinking about how this helps with addiction recovery.
Perhaps there never will be a full answer to these questions. Opinions vary considerably as to why the alcoholic reacts differently from normal people. We are not sure why, once a certain point is reached, little can be done for him. We cannot answer the riddle." -Alcoholics Anonymous Page 22
The Big Book of Alcoholics Anonymous was written in the 1930s, but now we have many more answers due to technological advances and research into addiction. Addicts and alcoholics have an issue with the prefrontal cortex of the brain. This part of the brain has a slew of responsibilities, and one of them is impulse control. I truly believe that I had addictive traits long before drugs and alcohol came into the mix, and impulse control was always an issue. Us addicts instantly react on our impulses, which is why there's often no thought before the first drink or drug. By increasing our moment-to-moment awareness, we're able to pump the brakes before we pick up that first drink or drug.
AA and NA Taught Me Mindfulness Without Me Knowing It
Like most addicts in early recovery, I was a hot mess. I was restless, irritable and discontent. I didn't know who I was without drugs or alcohol, and I didn't know how to act. I had a sponsor who constantly reminded me not to trust my thinking because it's what put me in my awful situation. That made sense, so I started taking suggestions from others. The cliché sayings the men and women of the fellowship were telling me was my first glimpse of mindfulness, and I didn't even realize it then.
"Take it one day at a time."
Although mindfulness is about moment-to-moment awareness, this was a stepping stone. They told me to just stay sober one day at a time. I had an issue living in the past or worrying about the future. I'd often ask myself, "How am I supposed to stay sober forever?!" They taught me that I only had to stay sober for today. When I was craving, I only had to stay sober for that hour, that minute or that second.
The Three Questions
I had a lot of anger issues when I got sober. I blamed the world for my problems, and I also had an unexplainable ego. I truly thought that my way was the right way, which caused me to get into a lot of arguments and put myself in bad situations. Someone in a meeting taught me to pause and ask myself these questions:
"Does it need to be said?"
"Does it need to be said right now?"
"Does it need to be said by me?"
This took quite a bit of practice, but it taught me to pause. It taught me to be mindful of what I was about to do. While I still sometimes said things that I immediately regretted, it started to happen less and less.
How am I feeling?
Working on my fourth step taught me to be mindful of the way I was feeling. I used to get resentful, sad or anxious, and I couldn't figure out why. Even if I knew why, I would judge myself for feeling the way I felt, or I'd judge the other person for making me feel that way. The fourth step really helped me get clarity as to why I was feeling these emotions, and it gave me the opportunity to work on my issues. Mindfulness and acceptance go hand-in-hand.
In the online mindfulness course I was enrolled in, I noticed many people were having trouble with the practices. Assuming that I was the only recovering addict in the class, I started to see that the fellowships of AA and NA had already given me a jumpstart on mindfulness practice.
How Mindfulness is Improving My Recovery
I am by no means a mindfulness expert, but I've been practicing mindfulness for a few months, and I can see how it's been strengthening my recovery in a variety of different aspects. They sometimes say in meetings that after you get some time, it's not about not picking up, it's about dealing with life on life's terms. Meetings, a sponsor, and step work are still a valuable part of my recovery, but mindfulness has been added into the mix, and it's continued to improve my day-to-day life.
Stress and anxiety are feelings that aren't limited to addicts alone. They're part of human nature. There are days where I can feel overwhelmed from the time I wake up in the morning. Juggling work, a seven-year-old, friends, family, and recovery can sometimes cause my mind to race. Also like most people, I begin to worry about the future. "How am I going to pay this bill?" or "How am I going to complete this next task?" are regular thoughts many of us have. Mindfulness helps me recognize these feelings and bring myself back in the moment.
The best part about using mindfulness as a form of stress reduction is that I can literally do it anywhere. I've found that I begin having stress or anxiety the most in the morning on my drive to work, and it may not even be for reasons related to work. To come back to the present moment, I place my hand in front of my A/C vent in my car and feel the cool air coming through. I recognize the way the steering wheel feels in my hand. I start to notice the colors of vehicles around me and the weather. I may even mindfully listen to the song playing through my speakers as a way to be brought back to the moment, and I feel much better after only doing this for a minute or two.
My listening skills during conversations have become much better because I'm able to stay in the moment much better. I can listen to clients, coworkers, friends and my son with more focus. I've seen how this has helped me with simply providing somebody with my undivided attention rather than fiddling with my phone, thinking about other tasks or judging what the other person is saying.
The Ultimate Perks
For me, the primary benefit of mindfulness is acknowledging happiness and joy. Due to human evolution, our brains are designed to focus on the negative as a form of survival. Mindfulness has taught me bring attention to my happiness and serenity. In early recovery, I remember being more mindful of just feeling well physically and mentally because I was free from active addiction, but eventually I stopped noticing it. Today, I can bring attention to my positive feelings more than ever, and it's truly a great experience.
The byproducts of mindfulness are endless, and I hope this article helped shed some light as to how it can help you in your daily life no matter who you are or how much clean time you have. I highly recommend that if you're like me and wish to add to your recovery tool kit, research some mindfulness practices and continue to strengthen your recovery.
SOBERNATION – August 19, 2016 by Chris Boutte
#sober #self-improvement #self-discovery #self-destruction
Relationships are shown to be the key to a happy life
Did you know, there are a number of practical strategies you can use to increase your psychological wellbeing. One such strategy is to nurture relationships.
Research suggests that personal relationships have the greatest impact on your satisfaction with life. Try to dedicate time and energy into nurturing relationships with your friends, family or co-workers this week!
This above first appeared on Black Dog Institute
Relationships are repeatedly highlighted as being key to a happy life. Yet we so often neglect them and under invest in them. Aspire Counselling specialises in Couples Counselling and Relationship Counselling and can support you in maintaining a successful and dynamic relationship. Whether you are focused on growing your relationships with friends, family or colleagues we can help.
You can visit our website to book an online counselling or face to face couples, relationship counselling session with us. http://aspirecounselling.net
Contact Aspire Counselling at info@aspirecounselling.net or call 6570 2781 to find out more about our services for men, women, adolescents, couples, families and corporates.
Recently, my husband severely injured his right hand, requiring emergency surgery and a stay in the hospital. This was stressful on many different levels: emotionally, mentally, physically, and financially. I had to find friends to watch our kids, arrange follow-ups with doctors, and learn how to care for my husband who would have difficulty caring for himself for a while. It was overwhelming, to say the least.
Coping with the trauma of the event itself was something completely different. I'd observed my husband's mutilated hand, and witnessed his agony, which was very troubling. Once I realized how bad the injury was, I had to go completely into crisis mode. That expends a lot of my extra energy and I ended up sobbing uncontrollably several times that difficult day.
With my recent Type I Bipolar diagnosis, I know that I have to stay away from stress as much as possible. But what happens when the stress comes to me? What happens when the unthinkable occurs? How does one with Bipolar Disorder cope with those events?
I'm certainly no expert in this area, but I found a few things that really helped me stabilize myself when I felt like the ominous string of sudden responsibilities would envelop me. I hope you find them helpful, as well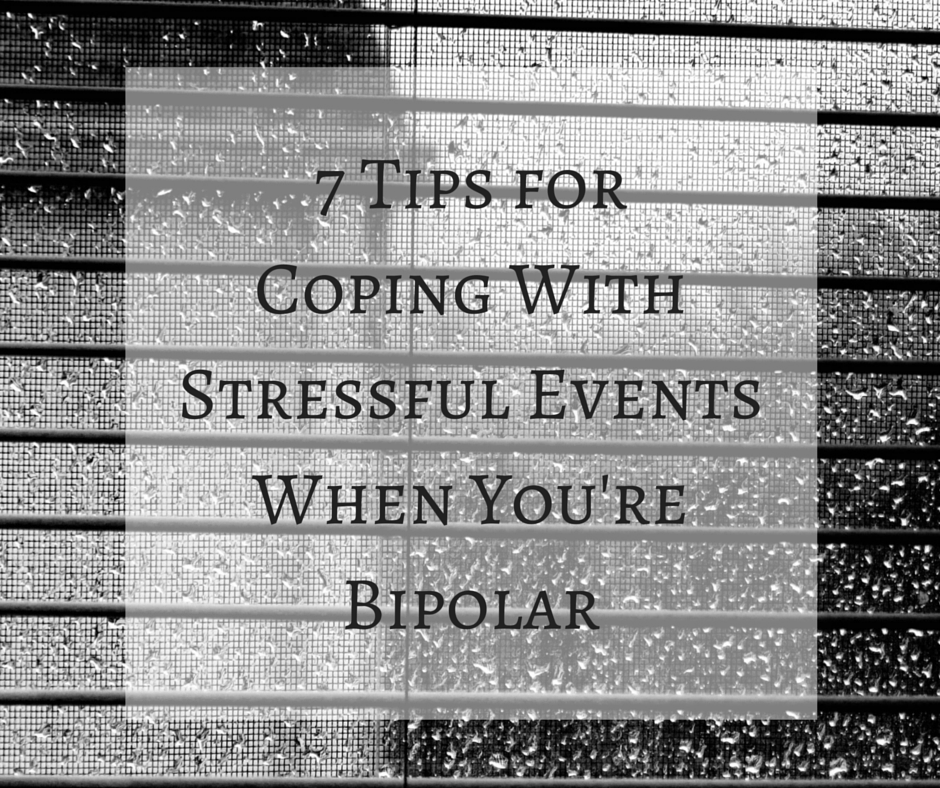 1. Setting healthy boundaries. I started with backing off of all unimportant projects that were unrelated to the event, making sure I wrote them down to get to at a later date.
2. Rearranging priorities. This is when I really had to divide the necessary from the unnecessary. I started from the source of the trauma and worked my way out, noting the most important people that needed my care first.
3. Taking personal time. It's important for me to continue to listen to what my body needs in order to stay balanced. I had to do my best to keep from continuously ignoring my own needs for those of someone else.
4. Staying organized. If you need to manage an unprecedented schedule, you'll want to be as organized as possible. It's harder to do when you're in the middle of a crisis, so I like to stick to easy ways of keeping a schedule, like using a planner or my phone's calendar app.
5. Getting enough rest. I can't emphasize this one enough. Sleep can be paramount to coping well within difficult situations, and each day is going to bring something different. I planned for chaos, and stuck to my sleep schedule as best I could, and it made such a difference.
6. Asking for help. Reaching out only improved my situation. I had to call on my close friends and family members to help me cope and manage added responsibilities. It was a huge relief.
7. Talking to a therapist. My therapist helped me stay on track and reminded me that I needed to cut myself slack during that challenging situation. It also was really nice to have someone outside the situation to talk to about my struggles with the event.
It can be difficult to balance, and extra stress can cause all kinds of problems with your mind and body, poor judgment, to depression and irritability.
But don't worry! You will get through this. With mindful planning, it's possible to survive traumatic events without losing your entire ability to cope.
This article appeared on www.bhope.com
ABOUT THE AUTHOR: MELANIE MCKINNON
Melanie McKinnon is a freelance writer based in Mesa, Arizona. She's a blogger for The Huffington Post and has written for several notable websites, such as Scary Mommy, The Good Men Project, and The Mighty. Diagnosed with Type I Bipolar Disorder in July of 2015, she spends her time balancing her moods and responsibilities at work, as a writer and barre fitness instructor, and at home, with her spouse and three children. Her favorite things include meditation, Diet Pepsi, Arizona, and football. Through her writing, she hopes to encourage and inspire anyone fighting a daily battle. Read more from Melanie on her blog: MelanieMeditates.com.
This article by Madelyn Heslet, appeared in TheMighty
When I'm depressed or anxious, it can be hard for me to remember what makes me happy or what calms me down. Every coping skill I've learned in therapy seems to fly out of my head and disappear elsewhere. I used to let the depression or anxiety take over and control my mind, and would be miserable as a result.
During my last hospitalization, I learned about a meditation technique called mindfulness. Mindfulness is the practice of bringing your attention to what is going on internally and externally in the moment you are in. Mindfulness doesn't exactly rid your mind of negative or anxious thoughts, but trains you to accept them and let them flow freely without feeling bad about having them.
It's hard to accept negative thoughts at first; you just want them to leave you and not return. But acceptance is an important step in recovery, and accepting your thoughts for what they are is important when battling anxiety or depression.
On my bad days, I try to be mindful in everything I do, not just sit and think mindfully. When I wake up, I am aware of how I feel. I'm aware of the warmth still in my body as I stretch, and am aware of the immediately negative thoughts I have about the day that hasn't even begun yet. I let those thoughts be, and move onto being mindful about my surroundings. As I travel from my room, to the bathroom and into the kitchen, I am mindful of how the carpet feels between my toes and of the bird's songs outside the windows. Already my negative thoughts are moving through my mind, making room for positive thoughts.
As I sit down for breakfast, I eat mindfully. I eat slowly, savoring each bite and each texture of the food. I enjoy what I'm eating, even though on my bad days I don't want to eat. Mindfulness helps me to not only satisfy the hunger I can't feel on a bad day, it helps me to truly find pleasure in something so simple as eating an apple. And finding pleasure on a bad day is so very, very important.
As I walk down the street with my daughter in the stroller, I am mindful of my surroundings. I notice the birds flying, the trees swaying and the bees moving from flower to flower. I notice my daughter look around, imagining she is being mindful as well. Children look at the world with such innocence and wonder, much like mindfulness has us do. I accept the worries swimming in my head for when we return home; chores, lunch to prepare, phone calls to make. I accept them and move on, back to observing the beauty around me.
When it's raining, it's hard for me to remain mindful. The weather matches my mood and I would like to just stay in bed. But I am mindful about the rain. I notice the size and the speed of the drops,
and remind myself that water, even in the form of rain, is good. It is good for the plants, for the crops and for me. It washes away yesterday and prepares me for another new day. I used to let the rain, the bad days, control me. But when I learned to look at the rain mindfully, my mood toward it changed, just like my mind has changed when it comes to negative thoughts.
Remaining mindful helps me cope with my anxiety and depression. It keeps me in the present moment, and manages my worries about the past and the future. Mindfulness doesn't make my worries disappear, but rather equips me with the peace and strength to deal with them. I was just practicing mindfulness on my bad days, but now I try to remain mindful on my good days, too. Since trying to remain mindful all of the time, I see my situation and the world around me in a more positive light. I find I enjoy the little things more often when I'm mindful; my daughter's laugh, the neighbour 's dog, my mom 's cooking.
Without mindfulness, I would still be in darkness on my bad days. I would let my negative thoughts completely take over, leaving no room for an inkling of positivity. Without mindfulness, I may not see myself or the world around me in a realistic, positive way. I am glad I learned the technique during one of my most difficult times, so I could learn to use it in the most trying, and the most wonderful times. Mindfulness is not only just a form of meditation. I believe it is a way of life, and a natural medicine to help treat anxiety and depression.
Learning mindfulness
Aspire Counselling offers Mindfulness as one of its services.  We can help you learn the technique and how to apply it in your life, such that you can support yourself.  This can be extremely useful to support you in managing stress, anxiety and depression amounst other things.  It is equally applicable to men, women, couples, and for use in a corporate setting to manage employee and work related stress.
You can visit our website to book an online counselling or face to face couples, relationship counselling session with us. http://aspirecounselling.net
Contact Aspire Counselling at info@aspirecounselling.net or call 6570 2781 to find out more about our services for men, women, adolescents, couples, families and corporates.
Mental health had never been talked about with me and I had no idea what was happening to me
I used to wake up every morning and wonder if there was any point in getting out of bed and starting the day I had ahead of me. I avoided social situations and had self-image issues. I was scared of everything and didn't want to live life anymore. I had these feelings for a long time, years in fact but it wasn't until May 4, 2009 that I realised how wrong something was. Unfortunately, this was the same day I wanted it all to end. If it hadn't been for my dad, I wouldn't be writing this right now.
After this, I knew I needed help, but how? Where? Who could help me and more importantly who would want to? Mental health had never been talked about with me and I had no idea what was happening to me. I was only 16 and I was confused. It felt as though there was a big wall between me and any possibility of a future or any hope. It wasn't until I started seeing someone at the local Child and Youth Mental Health Service (CYMHS) that I even knew what was wrong with me. It was then that I was diagnosed with anxiety and depression.
Getting the diagnosis was hard. Really hard. I mean there is so much stigma surrounding mental health and I didn't have a lot of friends as it was let alone with the label of "mental nutcase". I was really worried about how it would affect my life and, in particular, my relationship with my boyfriend at the time. In a lot of ways I was right to be worried. The few friends I had left, people at school ignored me, my boyfriend told me I was too stressful for him and left, and even my family didn't quite know how to deal with it.
Adding to this stress, the first few treatments I received did very little to help. I went to a psychologist with whom I just talked and in all honesty, I left feeling worse than I did when I arrived. I finally found something that worked. I had weekly sessions with the CYMHS working through my problems as part of an acceptance and commitment therapy program based around creative expression and guess what, it worked.
Now, I still have my days, anyone who knows me can tell you that and yeah, it is hard and I struggle every day but I know how to cope with my problems now. I surround myself with friends who love me and support me and I make sure I avoid my triggers. But the most important thing is that there is always hope. There is always someone out there who knows what you are going through and there is always someone who can and wants to help you. What I never realised but I want you to realise is that you are worth it. You are not a waste of oxygen. You are worth it.
Tools to help you get unstuck
Staying on course can be a challenge when life throws a sucker punch at you. Here are some tools to help you get to where you want to go and shake off what has held you back
.
Don't give up. Once you quit, it is never quite the same. Whether it's a relationship, a job, or your life, you are in charge of your choices. Giving up may enter your mind, but find some way to keep going, even if you have to do things a little differently.
Take it one day at a time. It can be tough going in this world we have created. Former lovers sue each other, companies fire people to increase the bottom line, and there are evil people out there who get their kicks by hurting others. You can't let all this get to you. Try talking first, because you don't always need a lawyer, and get your personal support system involved.
Love and prosperity can come in a New York minute, so be ready. You really do never know what tomorrow will hold. I have seen things change drastically, and for the better, overnight. And even if it takes a little longer, that is better than hiding from the world.
Stay positive. The world is not your enemy. Albert Einstein once said, "We all need to see the Universe as friendly." This is true wisdom from a great man who knew more about the nature of things than most anyone.
Go at your own pace, but don't stop moving forward. You may have been beaten down, but you are not broken. Even if you have suffered and lived through a life-altering trauma, if you still have a beating heart and air in your lungs, you can get back on your feet.
Remember, it's not a race. If you do just one thing a day, you will reach your goal. Sometimes even doing that one thing can seem overwhelming, and if so, just get started and you can always give yourself the weekend off. Pretty soon you will find that doing this work to get to the next level of your life is actually rewarding, and you will start to feel better.
Even making a little progress can go a long way. The key is to stick with what you've started. It's kind of like writing a book. In the beginning, you have an idea, or maybe several, but by writing one page at a time, you will complete the book and feel pretty great about yourself. Progress is a great healer.
Recognize that what you are going through now is not permanent. Sadly, there are things we can do nothing about, but we have a lot more control over our own moods and actions than most people think. Whatever circumstance you are dealing with, your job is to nurture the strength within you. Doing this will bring you greater stability and success in all areas.
Think about your thinking. If you don't think you will make it, it could become a self-fulfilling prophecy. Research says that up to 80 percent of our thoughts are negative, and that needs to change. When you learn to recognize your negative thoughts, you can begin to think more positively, which will make you feel better about yourself and your life. Imagine having 80 percent positive thoughts!
Learn to deal with disappointment. When Murphy's Law is in full force, you may wonder why you are even trying. The truth is that successful people in all walks of life have to deal with disappointment sometimes. It's part of the deal. The trick is to not let disappointments stop you. Ever.
Don't let life throw you offtrack. Take the time you need to refocus and gain some clarity. You will be well prepared for your next adventure.
By Barton Goldsmith Ph.d. writing in Psychology Today
I've struggled with depression for more than half my life. It's always been there, sometimes bad and sometimes not so bad, but always lingering. For most of that time, there's been a stigma attached to it. Recently, that stigma has lessened somewhat, but still, it is not enough.
Something I've dealt with, as part of this stigma, is the sense that it isn't OK to struggle with depression. I think to myself, "Most other folks don't struggle with it, so I definitely shouldn't." It's easy to feel bad about feeling bad, which makes it so much worse.
Of course, there's pressure to get better. People have pushed me to find a "cure," to feel better and to stop feeling depressed. With each passing year, I feel worse that I'm not better. I tell myself, "I should be better by now. Surely, I've struggled long and hard. It should be over." But it's not.
I've come to a realization recently. It's made it easier to cop, and it's made me feel better. I realized I will probably struggle with depression for the rest of my life. Maybe that sounds hopeless, but it's not. It isn't a resignation, but it's an acceptance.
I now know there isn't a cure and that takes the pressure off me to find one. Depression is an enemy, make no mistake about that. I'm not fighting a battle though. I'm fighting a war made up of thousands of little battles. I will not win a single battle and be finished with it, but I can push it back with little victories.
Each time I get out of bed and take a shower, I win a battle. Each time I manage a smile, even a fake one, I win a battle. Each time I laugh, do something I enjoy, work hard at my job or go for a walk, I win. I can take comfort in these victories, even though I'm still struggling.
I still lose sometimes. I still have days when I can't get myself out of bed and days when it's impossible to fake a smile. It's OK because the war isn't over. I may have lost a battle, but it's just one battle. Tomorrow is a new battle, and a new chance at victory.